What happens in Vegas stays in Vegas, right? But whatever you do, you have to stay safe.
That must be the reasoning behind the new package The Palms resort in Las Vegas is offering, in conjunction with Trojan condoms.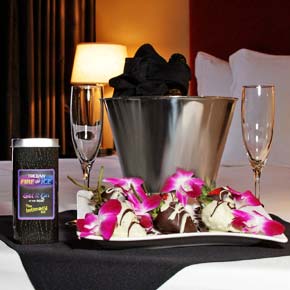 The "Trojan® Fire & Ice® Pure Pleasure Getaway" features the following amenities:
A Fantasy Tower Superior room
$30 Dining Credit
VIP Nightlife Pass (good for Rain, Moon, Playboy Club and ghOstbar)
A 50-minute Couples Massage at the Palms Spa
A Trojan Intimacy Kit (featuring a variety of Trojan® products from its condoms and vibrator lines)
Price for the package starts at $265 per couple per night (Sunday through Thursday stays) with a 2-night minimum. Weekends (Fridays and Saturdays) will be more.
Book the package at The Palms online or call 866-725-6773.
Don't want to pay for it? You can always try to win a stay at the Palms from Trojan. Grand prize is a 2-night Pure Pleasure Getaway package with roundtrip air for two. Deadline to enter is September 20, 2010.
If I had a significant other, I'd definitely book this. The Palms is one of my favorite places to stay in Las Vegas. The staff is always extremely nice and I love the Sunday Margarita brunch at their Mexican restaurant Gardunos. It's also great for celeb-watching, if you're into that kind of thing, and a big part of that is due to the Palms Fantasy suites.
*********************************
Palms Resort
4321 W. Flamingo Rd.
Las Vegas, NV 89103
Phone: 702-942-7777
*********************************

[Photo courtesy Trojan]