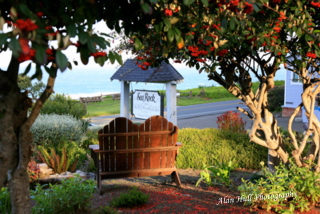 In northern California, the Victorian-inspired village of Mendocino is surrounded on three sides by ocean bluffs called the Mendocino Headlands. For romantic lodging with a view, stay at Sea Rock Inn, a member of Select Registry, Distinguished Inns of America. Situated on a hill overlooking the Pacific, the suites and cottages offer balconies for prime ocean viewing. An added bonus, the headlands, and the village of Mendocino, are just a short walk down the road.
My husband and I stayed as guests of the Sea Rock Inn when we stopped in Mendocino while on a coastal California road trip along Highway 1. Checking in on a cold windy afternoon, I appreciated the hot coffee in the lobby area, complete with a basket of warm muffins.
In our suite, we discovered a half bottle of Hush Innkeeper's Reserve 2008 Mendocino Chennin Blanc, which is given to all guests. It wasn't long before we had a fire roaring in the wood-burning fireplace. Red leather chairs provided a comfortable place to sit near the fire and sip our wine.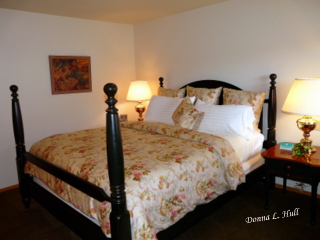 The comfortably designed accommodations included every convenience imaginable. A microwave and small refrigerator were hidden behind the doors of a pine armoire. The stylish but simple decor reminded me of Ralph Lauren. Sleep was no problem as we snuggled under a Scandia comforter in the king-sized four-poster bed, the sound of the ocean lulling us to sleep.
After walking along the headlands, a soak in the bathroom's large jacuzzi tub was a must. Gilchrist and Soames toiletries added a luxurious touch. But the plush robes hanging on the bathroom door were my favorite amenity— a cream colored one for me and a black one for my husband.
Breakfast is served buffet style in the lobby building. Don't be surprised if the staff greets you by name as you choose from the quiche, homemade muffins or scones, fruit, cereal, coffee and juice. And of course, all the tables come with a view of the ocean.
From Sea Rock Inn, it's an easy walk to Mendocino Headlands State Park where trails skirt the bluff. Walk a bit further and you'll come to the town of Mendocino. The New England-style shops, businesses and Victorian homes were the setting for the TV series, Murder She Wrote.
Sea Rock Inn offers free wireless internet for catching up with the rest of the world. But who wants to do that when you can sit on the lawn in Adirondack chairs and watch the waves roll in?
If you go:
Sea Rock Inn
11101 Lansing St.
Mendocino, CA
800.906.0926
All photos courtesy Donna L. Hull and Alan Hull Photography
Review by Donna L. Hull, My Itchy Travel Feet, The Baby Boomer's Guide to Travel