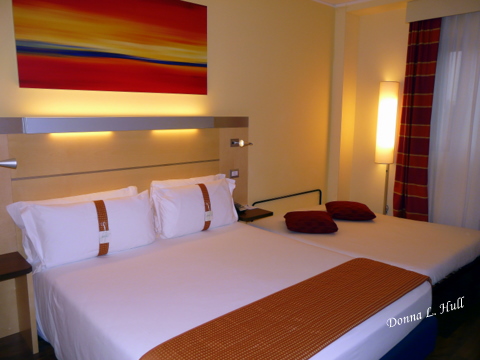 Flying from the U.S. to Milan is a long haul. Why not build an extra travel day to recover from jet lag before visiting Northern Italy or shopping the fashionable stores in Milan? All you need is a comfortable hotel that's convenient to Milan-Malpensa airport.
On a recent trip to Milan, my husband and I stayed at Holiday Inn Express at Milan-Malpensa airport to rest and recuperate before exploring Italy. Our only hurdle? Finding the bus stop for the hotel's shuttle. Travel tip: don't ask at the transportation desk inside the airport, they want you to buy their services. Instead, find the official information desk to ask where the shuttle stop is located.
It's a short ride on the shuttle bus to Holiday Inn Express. After checking in with a friendly, English-speaking desk clerk, we took the elevator to our room. Placing the room key into the slot to turn on the electricity, we discovered a sleekly styled room common to many European hotels. Parquet wood floors, minimalist furniture and a built-in open cupboard completed the room's design.
What did I appreciate most? Plug adapter, wireless internet on the combination computer-television and the heated towel rack in the bathroom. And at night, when the lights were turned off, somehow a blue light was activated in the bathroom as a night light. Great idea!
Since our stay was to recover from jet lag, we weren't interested in looking for a major Italian dinner. The limited service in the bar area of the lobby worked just fine with choices of pasta, salad and sandwiches.
For breakfast, we took advantage of the complimentary buffet. At one end of the large room, tables held hot egg dishes, bacon, grilled tomatoes, cereal choices and yogurt. An Italian coffee machine served up my first cappuccino in Italy.
If you're in need of a good night's sleep after your trans-Atlantic flight from the U.S. to Milan, do like we did. Spend a night at Holiday Inn Express Milan-Malpensa Airport.
If you go:
Holiday Inn Express Milan-Malpensa Airport
1.877.859.5095
Photo courtesy Donna L. Hull
Review by Donna L. Hull, My Itchy Travel Feet, The Baby Boomer's Guide to Travel