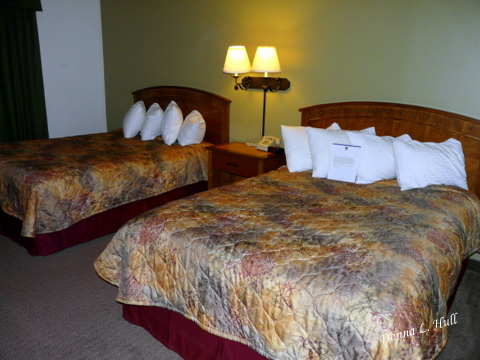 Are you a road warrior who likes  to wing it when it comes to reserving lodging? You know the drill, pull into town and make the rounds before choosing a place to sleep for the night. Don't try that in Kanab, Utah.
On a recent road trip from Missoula, Montana to Tucson Arizona, my husband and I thought that we could find last minute lodging in Kanab, a popular stop when touring between the Grand Canyon, Bryce and Zion National Parks. Bad mistake. We made the hotel rounds finding that, not only were most hotels already booked, they were also drastically overpriced.
Eventually, we found a room at the Best Western Red Hills. When I walked into the King room facing the main street, a semi, tractor-trailer truck roared by, rattling the windows. Back to the desk we went to request a quieter location.
Our next room in the hotel was a queen with shower, no tub. After a long day on the road, I had looked forward to a hot soak. My husband called the front desk. Derrick, the accommodating desk clerk not only found us a queen room with a tub, he volunteered to walk over and help mover our luggage.
Although clean, the Best Western Red Hill rooms are outdated and overpriced, but the free wireless is fast and easy to access. Typical rates from June 1 to Oct. 31 are between $90.00 and $125.00. We did appreciate the free breakfast with eggs that had been cooked on-site rather than the frozen egg selection we received at the Best Western Cotton Tree Inn in Pocatello, Idaho the day before.
And, if you were the group standing in the hall outside our door talking loudly late into the night, we hope you found your shirt. How could one shirt initiate that much conversation is beyond me. Did you enjoy the early morning wake up when we slammed our door? Twice. Real hard.
If you do stay at Best Western Red Hills in Kanab, be sure to walk across the parking lot to the Rocking V Cafe. It's the best food in town. A real winner.
If you go:
Best Western Red Hills
125 West Center
Kanab, Utah 84741
1.800.830.2675
Photo courtesy Donna L. Hull.
Review by Donna L. Hull, My Itchy Travel Feet, The Baby Boomer's Guide to Travel