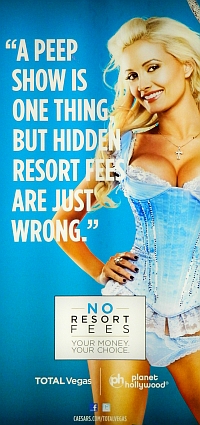 So you're comparing Hotel A to Hotel B in Las Vegas and the nightly rate is the same. But is it? Better check the hidden extra charges—otherwise known as "resort fees."
This week marked a major victory for consumers when the Department of Transportation mandated that airlines must disclose all fees up front in their ticket prices. No more "before taxes and fees" come-ons and no hiding exorbitant fuel surcharges in the fine print or the last booking screen.
Hotels can still do what they want, however, which means they'll continue to hide sneaky extra charges from you. At hotels in Las Vegas, this has created an interesting marketing war between those that engage in this practice and those that don't. Typical resort fees in the city run from under $7 at some independent hotels to $25 at Red Rock—plus up to 20% tax. Considering you could get a midweek room for $39 plus tax but be hit with a $15-$20 per night resort fee, the charges are far from insignificant. As the site American Casino Guide notes, "Downtown, only the Gold Spike charges a resort fee ($8.98) which often adds a huge percentage to room rates as low as $12 per night."
What do you get for this charge? It varies from hotel to hotel, but generally it's a way to charge you for things you're used to getting in the room rates elsewhere in most U.S. cities, like Wi-Fi and gym access. Some do enable you to make some of this back though if your stay is short. Mandalay Bay charges $20 per day but gives you two drink coupons to use in any of their bars. If you're someone who's not going to be gambling (getting complimentary drinks anyway), that's a little bit of consolation. Some will include long distance calls (Wynn, Hard Rock, Encore, Palace Station), which can be useful if you've got some business to conduct or relatives to catch up with.
Unfortunately, even those that avoid resort fees altogether are known to stick it to you in other ways. After promising in interviews that it wouldn't charge for Wi-Fi because guests find that so annoying, new hotel The Cosmopolitan quietly started charging $15 for internet access before it's first anniversary.
Hotels affiliated with the Caesars Group are taking it a step further and actively promoting the fact that they're not going to reach in your pocket for a second collection. "We currently have an ongoing campaign that eliminates the addition of mandatory hidden resort fees to hotel room rates," says Kellyann Roberts of Caesars Entertainment. These range from the low end to the high, with Horseshoe, Ballys, Flamingo, Caesars Palace, Planet Hollywood, Rio, Imperial Palace, and Paris included.
The provocative billboards and sidewalk signs they have posted on the strip are a clear dig at hidden-fee competitors. See one example at the top. Another has a topless Chippendale's dancer with the text, "Just because I lose my shirt each night doesn't mean you need to."
There's fine print on that deal too though: if you want Wi-Fi or gym access, you'll still have to cough up a fee that is—you guessed it—at the high end of what other hotels are charging for a resort fee ($25). The key difference here is it's optional, plus you can pay it on a day-by-day basis. So get your work done and work off some toxins in the gym on Friday, then forget paying anything extra the rest of the weekend. For the majority of guests who are in Vegas to party and can use their smart phone to check e-mail, this is clearly a better deal.
One odd twist on top is that only leisure guests are stuck paying this whole mandatory fee every time. When I attended a conference recently, booking through the official meeting site got my resort fee at a MGM property reduced from $20 per day to $7, making it a bargain. Meeting planner Hillary Bessiere of Bishop-McCann says, "My company books over 5 million dollars annually in business for incentive and meetings groups and resort fees are a bone of contention. We almost never pay them and if we do, we ask they be lumped in with the rate. To me, resort fees scream out, 'We're going to nickel and dime you to death during your stay.'"
For many travelers, it comes down to what they're actually getting for their money. Tara Cannon, who runs the family travel blog Pint Size Pilot, got hit with a resort fee recently at the Wynn in Las Vegas. "I found it mildly offensive but since their facilities are so phenomenal, I could deal with it. Much more offensive to me was the $30/day resort fee I was charged at the Marriott San Juan where the facilities are 'just okay' but not nearly on par with a hotel like the Wynn. I found myself online searching terms such as 'resort fee scam' because I was so incensed." If you look at real value, Las Vegas is still one of the cheapest places to travel in the USA.
As with many travel decisions, you'll need a calculator handy to figure out whether paying the fee is still worth it. The website ResortFees.com has a comprehensive chart on all the Vegas fees, but also a handy calculator at the top where you can add it all up right there.
If you're not going to use the gym, the Internet access, or the phone, you can always attempt to get the resort fee taken off your bill. With hotels so beholden to reviews on TripAdvisor and chatter on Facebook, they may deem this request not worth the hassle to refuse.
Tim Leffel is a travel deals expert and author of four books including Make Your Travel Dollars Worth a Fortune and The World's Cheapest Destinations. Photos by the writer except exterior shot of Paris Las Vegas, courtesy of Caesars Entertainment.
* Article updated 3/1/12 to note additional Wi-Fi charge at the Cosmopolitan.