Smack in the middle of the Vegas Strip in Nevada is a slice of Paris.
You probably won't hear much French being spoken, or see many classy, well-dressed femmes sipping cafe au lait, but technically you will be in Paris. Paris Las Vegas, that is. You might need to adjust your point of view a bit and embrace the Vegas version.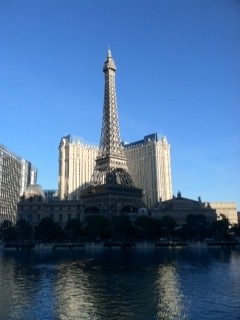 Paris is typical of the many "theme" hotel that cropped up in the nineties. Included in the design, an homage to it's namesake, is 541-foot tall replica of the Eiffel Tower (in the casino), a sign shaped like the Montgolfier balloon, and a diminutive  Arc de Triomphe. The front of the hotel suggests the Louvre and the Opera House in Paris east.
By current standards of "all suites hotels," rooms here are on the small side and the place in general is looking tired. The Paris could use a re-fresh. Vegas has abandoned the theme hotel/casino in recent years with the rise  of amazing, modern buildings like the Wynn, and Aria that make Paris Las Vegas look like it was left in la Belle Epoch. While there are no celebrity restaurants here, there aren't any outrageously-priced ones either. When I checked rates today, I found basic rooms for as low as $87.
Paris Las Vegas
3655 Las Vegas Blvd South
Las Vegas, NV 89109
(877) 603-4386
Photos by Dan Dion