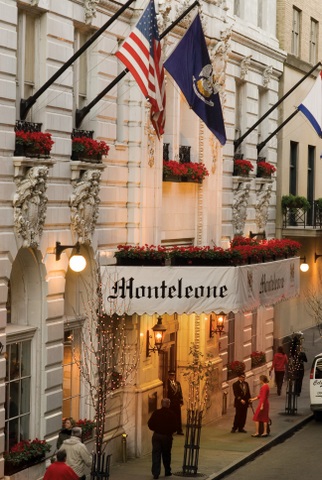 Who says you have to sleep with the noisy crowds at Mardi Gras? Book a stay in New Orleans at the luxurious Hotel Monteleone for the best of both worlds – Mardi Gras fun and classy digs.
Located on on quiet Royal Street, Hotel Monteleone makes a convenient headquarters for exploring the French Quarter. Bourbon Street, with it's main attractions, is only a block away. Party at the Mardi Gras parades, then recover the next day, catching a few rays by the hotel's rooftop pool. Or book a spa treatment with Spa Aria, Hotel Monteleone's quiet retreat.
Accommodations include all that you would expect in a luxury hotel room, but, with a touch of traditional styling befitting the hotel's history. And what a history it is. Hotel Monteleone celebrates 125 years of New Orleans lodging in 2011. Be sure to check out the website calendar to see the festivities.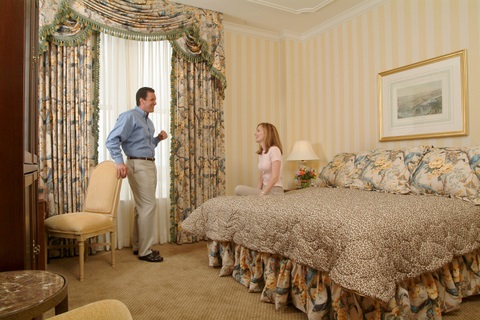 Hotel Monteleone honors many of the literary icons that have passed through its corridors over the years. Southern fiction fans might want to book one of the rooms that's styled in the time of Eudora Welty, Pulitzer Prize-winning author of The Optimist's Daughter.  If you had visited the hotel during Ernest Hemingway's stay, you might have shared a drink with "Papa" in the famous, revolving Carousel Bar. However, you have something over those famous authors of years gone by. Your accommodations include a luxurious marble bathroom with all of the modern accouterments.
And during your time at Hotel Monteleone, keep an eye out for the resident ghosts. After all, you're staying in one of North America's premier haunted hotels. Wouldn't a run-in with a friendly spirit add to the stories that you bring home from Mardi Gras?
If you go:
Hotel Monteleone
214 Royal Street
New Orleans, LA 70130-2201
Toll Free: (866) 338-4684
All photos courtesy Hotel Monteleone
Review by Donna L. Hull, My Itchy Travel Feet, The Baby Boomer's Guide to Travel